Art, Words, Women, Healing

Delighting in the creativity we all posses and helping others 
to discover their own gifts in the process.
An introduction to Pamela Hastings by Pamela Hastings…
About my doll making: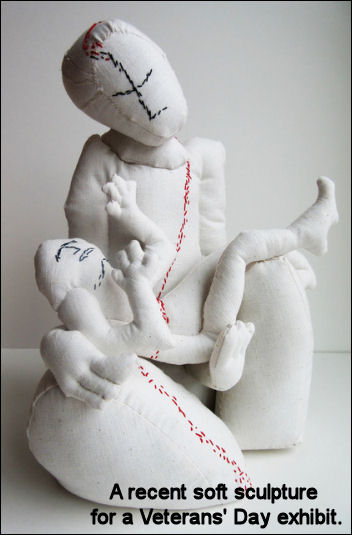 My grandmother taught me to sew when I was five and made my first doll. Like most, I started with costume dolls, but then discovered Lenore Davis and Soft Sculpture in the Sixties. My work since then has been sculpture and art-based, rather than realism-based.
By disregarding "pretty" and "realistic" my designs can express a lot of emotion and fun without being technically difficult to make. My personal work can get more elaborate and has been shown in art galleries in the US and abroad.
I enjoy working with women and helping them to recognize their own creativity, encouraging jumping off from the pattern. I've written and taught about using the process of doll making as a way to transform one's life. In that way, my patterns move way beyond "toys" or "cute" and at the same time the unusual colors and shapes are just a lot of FUN.
Best,
Pamela