Cloth Dollmaking Courses! 
Newest Course by Jane Darin!
Online! Start Today! 
N e w P a t t e r n M a k i n g Te c h n i q u e s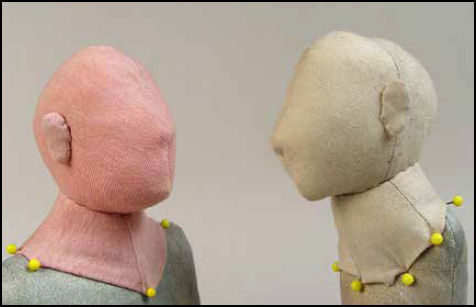 Register! @ Dollmaker's Journey 
The 
N e w  P a t t e r n  M a k i n g 
Te c h n i q u e s
course is very comprehensive with 62 pages of detailed instructions filled with helpful charts, photos and illustrations.

Benefits of taking this Course:

• Make a three-dimensional clay model to use to create a head and a separate neck and ear pattern.

• Learn to create patterns that can be reused over and over again.

• Create in scale three dimensional cloth head, neck and ear patterns in knit and woven fabrics.

• Learn stuffing techniques to get the best three-dimensional head, neck and ear shapes.

• Make two new armatures to hold the neck for use when stuffing and make two new stuffing tools..

Chapter One:
A Clay Head

In Chapter 1 Jane teaches you how to use plasticine clay as a tool to develop patterns using a three-dimensional model rather than a two-dimensional drawing.

Chapter Two:
Make, Sew and Stuff a Head Pattern

In Chapter 2 Jane teaches how to turn the three-dimensional shape (head) into your own pattern. You will develop two patterns for the head: a two piece pattern for knit fabric and a four piece pattern for woven fabric. Included are techniques to make a chosen scale/size, use freezer paper for marking the sewing instructions on the patterns, and successful stuffing.

Chapter Three:
Make, Sew and Stuff Neck and Ears

In Chapter 3 you will learn how much of the function of the head occurs in the neck and how integral a separate neck pattern can contribute to the expressiveness of a head. You begin by making clay models of a neck to match the head. Then make two patterns, one in knit and one in woven fabric. You will learn how to create two new armatures to display the cloth heads and necks shown above as well as develop an ear pattern in scale.

Course includes PDF Downloads and access to Question and Answer Forums.
Also Available – Work at your own Pace
Course Series 1
The 5 courses in Series 1 are ultimate reference guides for both new

and experienced cloth doll makers.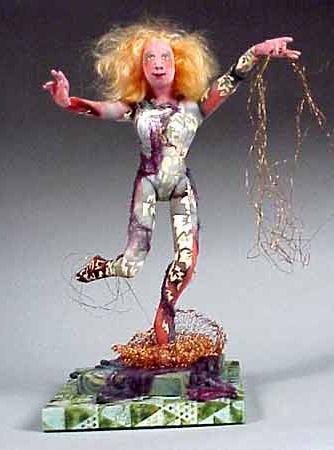 Course 1: 

My Dollmaking Journey
Course 2: Machines, Sewing and Fabric
Course 3: Seeing Color Relationships and Using Color Words
Course 4: Using Color Harmonies and Palettes

Course 5: Scale and Proportion